On February 28,1969 at Thompkins County Hospital in New York City, Christopher Thomas Delamarter was born to parents Nancy Petaja and Richard Thomas Delamarter. Here is his story in short:
My father grew up as an army brat and lived in a wide range of places from Alabama to Germany and as far as Japan. My mother had lived a nomadic life as well through her missionary upbringing, and the two connected over their migratory backgrounds and love for travel. They eventually joined the Peace Corps together and traveled all throughout India and Central Asia. By the time I was a toddler, we were living in Paris and Belgium for my father's studies.
We later moved back to the states and lived in D.C. until I was 8, which is where I first discovered an appreciation for bikes as my friends and I terrorized the neighborhood on big wheels. Our Big Wheel biker gang built crazy ramps that would shoot us down through the cobblestone alley.
Around this time of such joy and exploration, my Mother started to notice symptoms of CMT – Charcot Marie Tooth – disease, but didn't have much luck with the doctors. I remember feeling a lot of pain in my feet and beginning to walk on my toes.
Our next move took us to Park Slope in Brooklyn. It was a tough adjustment, and I got mugged and jumped repeatedly as a child.  We lived only 3 blocks from Prospect park where all the kids hung out. The park was always teeming with different people from the various neighborhoods bordering the park, especially Rastafarian and West Indian communities. Weed, reggae, and cycling were everywhere.
In 1982 and '83, my father took my younger brother Andrew and I on cycling trips throughout Europe. Forever a wanderer, my father loved backpacking and originally wanted to go trekking. I couldn't carry a pack with my symptoms, so we went cycling instead. As it turned out, I was hooked instantly and insisted on riding my overpacked Schwinn Varsity up every hill until I stripped the pedal.  While on our travels, we stayed with my father's friends from his expat days in France and watched stages of the Tour de France. He bought me my first nice ride there, a Peugeot.
During and following high school, I sold frozen lemonade on the streets in the Village and Lower East Side of NYC. I loved spending time on the streets and soon started working as a bike messenger.  After getting my start at several lower tier companies, I landed a job at Elite Couriers, arguably the best company in the city. In that position, I met the cyclists that would join me to become "Team Brooklyn": James Bethea, Luis Trivino, Joe Duplan, and Marco Quezada. We started traveling to races wearing store-bought Brooklyn jerseys and were coached by Bill Montgomery, who turned me on to road racing and built me into the rider I am today.
Several years racing and messaging gone by, I decided to go back to school at Colorado State University. I raced there for several years and was lucky enough to ride some of the best terrain in the world all over the state while living in Fort Collins and Steamboat Springs. I also learned to whitewater kayak while living in Colorado, which soon became another passion of mine.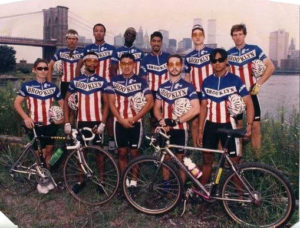 A knee injury from skiing put that lifestyle on pause and sent me back to NYC to help remodel my father's house. On one trip back I stopped in western Pennsylvania and got a job as a whitewater guide where I spent many years exploring the rivers throughout Pennsylvania and West Virginia.
I finally came back to competitive cycling in 2011, finishing 5th in the West Virginia Road Race Championships and 3rd in the Point Series. I took a short break when I moved back to Brooklyn two years later. I only rode occasionally and actually had both of my bikes stolen during that time.
When I returned to Pennsylvania in 2015, I jumped right back into racing. Here in Pittsburgh we have the Bud Harris Cycling track, where the Allegheny Cycling Association holds regular races on Tuesday and Wednesday evenings throughout the summer. Over the past two years I've participated in ten gravel events as well, and these local events keep my excitement for cycling and training high year-round.
Now, we hope to introduce you to the next chapter of this journey. Shark Tooth Cycling will take us around the country riding and racing at some of the premier cycling gatherings, raising money to fight against CMT disease, and fight for getting more people on bikes.